Pin It
And I don't mean starting this blog! What I'm referring to is my bright idea to renovate the stairs in our home. I swear, Pinterest and the blogosphere is going to be the death of me yet!!
When I first discovered the world of DIY blogs, I found myself in
Centsational Girl's blog
. She had done this fabulous project in her house of redoing their staircase! I was mesmerized. You can see what she did
here
. I thought how hard can that be? I can do that!
So here's a photo of what we started with. Basic builder oak banister and grody carpeted stairs. You'd probably see the very same set up in every house down the block!!! The only cuteness in that photo is #1 Grandbaby.
Pulling the carpet off meant that we had to figure out how to redo the bottom step. Mine had the same curved edge that Censational Girl's had but mine was CARPETED! She had nice wood. Thank God for demo tools. Of course, getting rid of that curvy edge meant getting rid of the existing newel post. No problem - it was ugly anyway!
Next we had to bullnose a new oak stair tread. This wasn't much of an issue since it meant getting #4 Son a new tool for his router!
Making progress! Of course, reconstructing the new first step meant destroying the wood floor around it which has led me to an entire different project! Don't your projects domino like that? But that's a post for another day!
We removed the carpet off the stairs with some serious sweat equity and a crow bar. I've come to hate carpet layers and their dadgum staple gun!
Of course re-doing the stairs meant RE-DOING the stairs! I hated every.single.element. of this stair case. Time to get out the sander. Sanding the poly finish off of the bannister wasn't as hard as you'd think. It's amazing how fast 60 grit sandpaper can cut through that crap. After sanding the bannister I figured that this would be the perfect opportunity to get rid of those damn balls on the newel posts! You know which ones I'm talking about. I call them Builderballs and I think all of them should be put in a vice grip! Yay for my wonderful husband and his circular saw! Now you see them.....
Now you don't!
#4 Son made some custom caps that we glued and nailed in. We are still in the middle of this project - it's a long one! At this point, we have the bannister stained and I am in the process of repainting the ballusters. BTW, I did NOT sand the poly off of the ballusters! Used my wonder Gripper primer and then painted them with Gloss White Enamel.
Here's our progress so far. The new fabulous newel post is in and the stair treads have a wonderful new oak cap on them. They are from Stairtek and are called "retreads". Just nail/glue them right over the existing tread!
Watch for "Part 2 Stair Redo" coming soon to a post new you soon!
Anybody else got themselves into a never ending project or found themselves in DIY hell?
POST UPDATE! July 31, 2012
Since posting this project a few weeks ago, I can happily say NOTHING ELSE HAS BEEN DONE! But it's not my fault! I was doing some
surfing
researching and happened to find this picture over at
The Yellow Capecod
. Seriously, GO TO THAT LINK AND SEE SARAH'S FLOORS!
I have serious floor envy! At the start of the stair project, my intention was to rip out the crappy carpet and builder oak hardwood and lay 20x20 tile. I like tile, I can do tile but just the sheer size of the project (1000 sq ft) was overwhelming me before I even started. Then I saw Sarah's floors! I could not believe that was laminate! My experience with laminate was the plank that looked like it had three boards fused together. I just didn't like it. After realizing that they now have "planked" laminate flooring, I hit the streets! No, literally - left right then and there! I went to the closest Carpet Mill Outlet store to see what I could find. I found what I would consider to be identical for $1.29 sq ft! It's even "hand scraped"! For anyone who hasn't installed laminate, let me tell you it's a breeze. I bought 1000 square feet of it and picked it up today!
But I do have an issue that maybe someone can offer some advice. Scroll back up to the semi finished staircase and note the "blonde" stair treads. Those are oak and I really just put a sealer on them - no stain. And then you'll notice that the bannister is very dark walnut stained. My new laminate is called Antiqued Maple and it has just as much red tone as you see in Sarah's picture. Kinda busy, right? My thought is to sand down those NEWLY INSTALLED STAIR TREADS (gheez....) and then try to stain them to match. I have a landing that splits the two sets of stairs in two that will have the laminate. I can't have six blonde steps, reddish laminate and six more blonde strairs. There ain't no way I could do that where it looked intentional! So any thoughts???
I can't wait to get this started and finished! I just have to clear out this junk....
Linking up with.....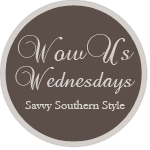 Blog Gadgets