Pin It
I love to paint furniture. Not that I'm all that good at it, I just seem to have a little more creativity come through when I'm painting furniture. I painted my buffet as you can see
here
. It was so much fun and I thought it turned out pretty cute and funky!
These days you can't turn around in blogland without seeing Annie Sloan Chalk Paint. And I love the pieces that everyone is doing! So beautiful! This is probably another reason why prices are going up at the thrift stores, too! They are on to our secrets, ladies!
I've had a little chair that I picked up at the thrift store last year. A whopping three bucks for it! I just knew I could do something fun with her!
I started out doing some crazy colors and designs on the little chair but I just wasn't feeling the love. Nancy decided to pitch in while she was here last August and did that weird green squiggle on the bottom cross piece. I told her it looked like a snake and to please stop. So this is how the chair sat in our storage room in the basement since last August.
Then I saw this awesome chair that Heidi posted on the
Crazy for Color Link Party
. I thought how great it looked - nice and simple - one color - and of course my favorite color, blue! My little chair started calling me from the basement.....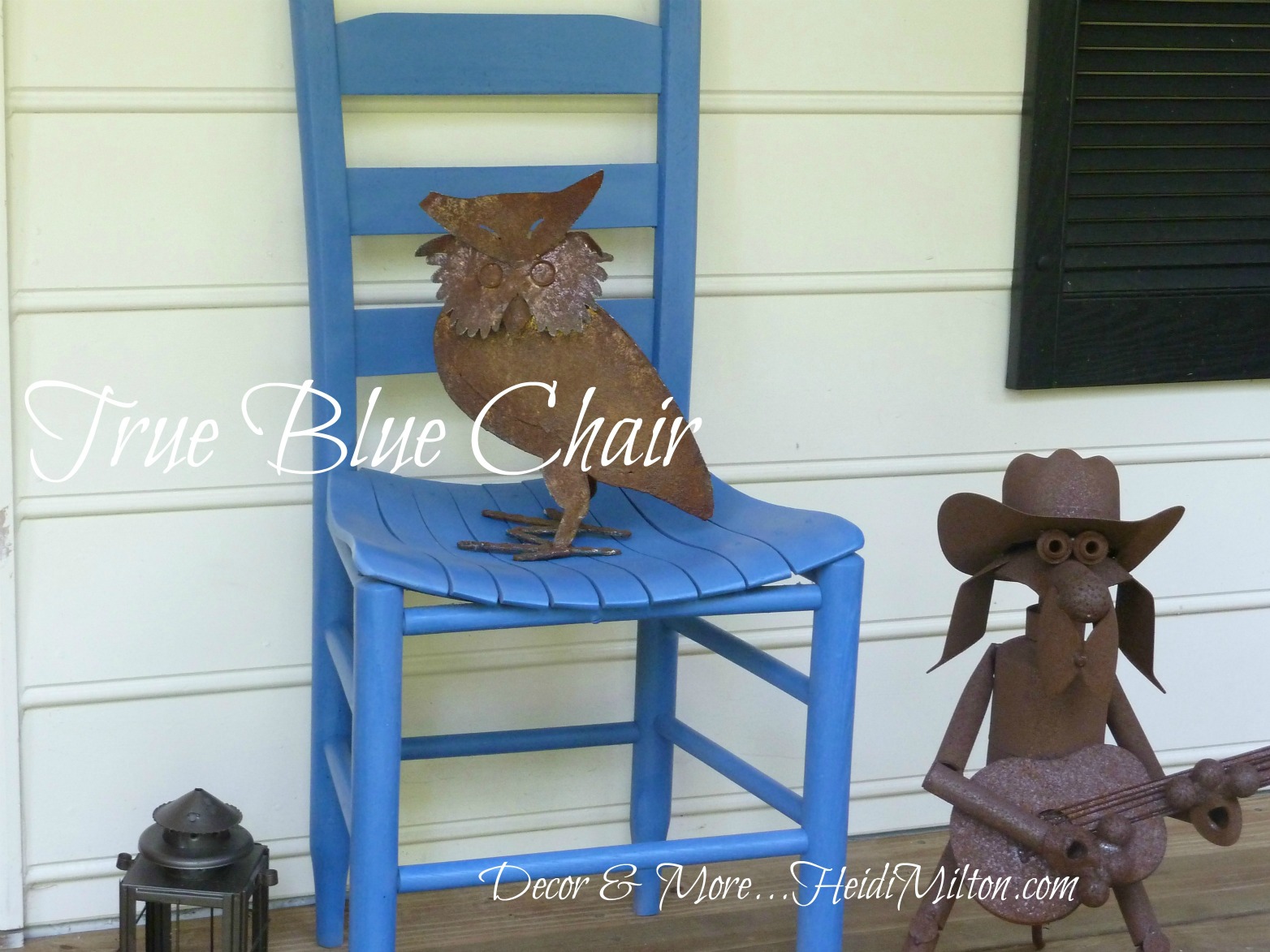 In deciding exactly what to do with my little gal, I thought about all the wonderful ASCP furniture I see daily on the web. Love it!! Maybe this was my jumping in point with chalk paint! To be honest though, the price of the ASCP is a little steep for me, especially since this was basically to find out if I liked it or not. Remember the stencil cutter I paid good money for
here
? Then I remember seeing some recipes for "homemade chalk paint" so I thought I'd go that route. There are alot of them out there using a few different ingredients but I chose the one using plaster of paris, since I had some on hand (zero financial outlay!). My ratio was two cups of paint, one cup of Plaster of Paris and add some water as needed. Mix, mix, mix, mix - it's very gritty but you'll get there. I had some really nice blue paint that a friend had given me so I used that. The chair turned out a little more baby blue than I would have liked but I kept going....
Just ignore all the crap behind it in the garage but believe me when I say "that's the clean side!"
After the paint went on, I thought it would be fun to have a word or a saying somewhere on her. Uh-oh - here comes that stencil stuff again! But I remember seeing a tutorial on the internet about how to very easily paint letters on wood. Jaime from That's My Letter has a great tutorial
here
. I'm thinking I can so easily do this! I print out my word and tape it on the chair.
First I use a pen and then gently lift up the paper. Nothing....Okay, then I used a skewer with a nice sharp point to outline it. Still nothing. Starting to panic here. Then I realized that I had added a cup of Plaster of Paris to my paint so I essentially created a mold out of my chair! Nothing was going to indent on that wood! I really just don't think I was meant to put letters and words on things....Not giving up, I just xacto knifed out the letters and traced them onto the stupid chair. Then I just painted them.
I still wasn't loving the baby blueness of the chair so I decided to "glaze" it like I see every one else doing. Once again, I didn't want to invest in something that I was just playing around with. Now, if we're being completely honest, my Mom was "glazing" long before it was fancy like it is today. We called it "antiquing" way back when and it was basically wiping on/wiping off. I diluted a bit of brown paint I had with water and started my Karate Kid thing... I was finally liking the color. Then I distressed everything a bit, rubbed it down with some plain old Minwax furniture paste and was done with it! I had found some awesome fabric at Denver Fabric a few days ago that I knew would be perfect for my chair so I recovered the little seat and stood back and admired my very cheap little chair.
I love this fabric! The chair is kind of telling me "time to create"! And since it's now sitting over at my paint table, I think it's appropriate.
So while it's maybe not as fancy as some of the stuff I see on the internet using the REAL ASCP, I can't help but think it's okay for my first time. One of these days when I'm rich and famous, I'll call Annie and ask to buy some of the real stuff!!
Blog Gadgets